DroidVPN - Android VPN
3.0.2.8
VPN App – Enjoy Internet Freedom Anywhere in the World
If you are having difficulty in accessing certain websites in your current country of residence then you should look to use this VPN app. DroidVPN – Easy Android VPN is a helpful app which allows you to gain access to websites and messaging apps that are blocked in your country. Internet freedom is a concept that isn't appreciated in some countries of the world. The governments in these countries often restrict their residents to access certain websites. Mostly, these include social media websites like Facebook or video-sharing websites like YouTube. With the help of this VPN app, you can ensure that government restrictions don't prohibit you from accessing these websites. It will allow you to anonymously connect to these websites with no one being any the wiser.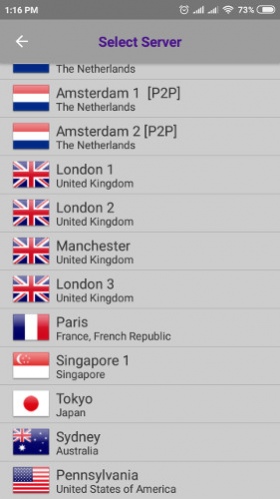 DroidVPN – Easy Android VPN combines a simple design and layout with an intuitive user interface. The combination of these features means that even a person with no experience of using VPNs can easily use this VPN app. All you need to do to establish a connection with the VPN server of your choice is to enter a username and a password and create your account. Once the account has been created, the next step is to simply choose the server of your choice and then click the Start button located in the center of the app's home screen. It will take a few minutes for the app to establish the connection after which you can start browsing. You can select the servers from a list which can be accessed by clicking the menu button located at the screen's bottom-right corner.
This VPN app is safe to use for everyone. It works by creating a secure tunnel from your Android device to the various servers of DroidVPN located in different parts of the world. This tunnel ensures that no one is able to know the exact location from which you are accessing the websites. When you connect to any blocked website, they will only see the IP address of the server from which your internet traffic is being directed. Thus, they would consider you to be a resident of that particular country and allow you to access the website without any restrictions. Using this app, you can access any geo-restricted websites too that can only be viewed in a particular country or region.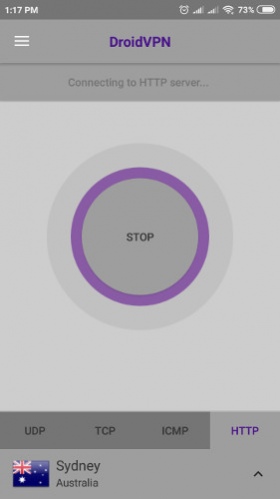 DroidVPN – Easy Android VPN is an excellent app when it comes to protecting yourself from the threat of hackers. It can provide you with the peace of mind that all your internet traffic data is being encrypted and is of no use to anyone. The feature that distinguishes this VPN app from others is that it is compatible with different connectivity protocols. For instance, you can connect to the internet anonymously via this app using protocols like UDP, TCP, ICMP, and HTTPS. DroidVPN is available in both free and premium versions. The free version has a data limit of 100MB/day while the premium version allows unrestricted internet data and speed.
Features:
Gain access to blocked messaging apps
Compatible with different connectivity protocols
Encrypts internet traffic to ensure security
Anonymously connect to the internet
Offers protection from hackers
Conclusion:
DroidVPN – Easy Android VPN is an app which will primarily appeal to people who are living in or traveling to a country where internet freedom is non-existent. It offers them the chance to connect to restricted websites and at the same time preserves their privacy by assigning them a different IP address. It is a nice VPN app to have on your phone if you are traveling abroad to countries like China or Saudi Arabia.
---
Add a review
Tell us your experience with
DroidVPN - Android VPN
3.0.2.8
RELATED PROGRAMS
Our Recommendations
---
---
---
---